Cushman & Wakefield (NYSE: CWK) is a leading global real estate services firm that delivers exceptional value for real estate occupiers and owners. Cushman & Wakefield is among the largest real estate services firms with approximately 50,000 employees in over 400 offices and 60 countries. In 2020, the firm had revenue of $7.8 billion across core services of property, facilities and project management, leasing, capital markets, valuation and other services. To learn more, visit www.cushmanwakefield.com or follow @CushWake on Twitter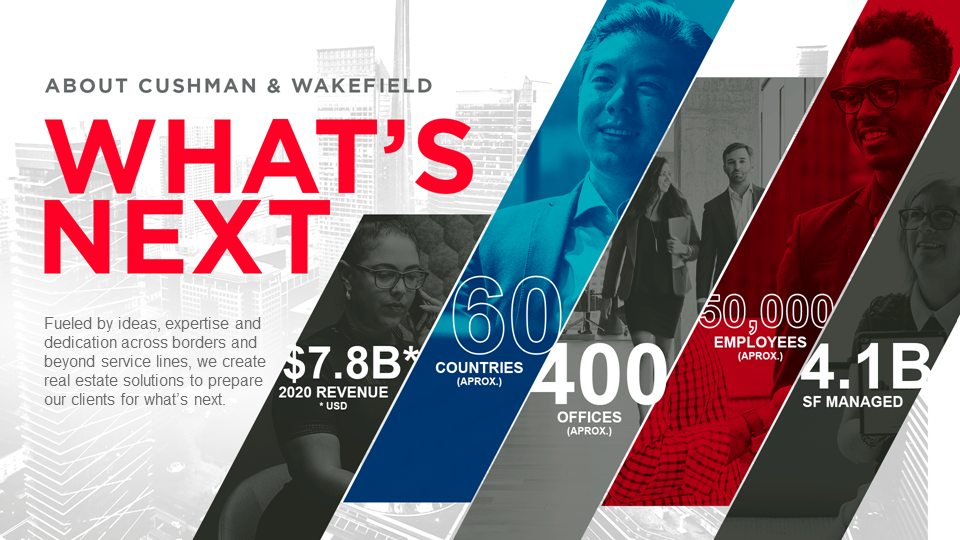 RETAIL – Cushman & Wakefield's retail services include specialist expertise in every area of the market. Our high street, shopping centre and retail warehousing teams deliver the best and most knowledgeable advice in support of our clients' goals. We represent both landlords and tenants, and can provide our services in the areas of development, redevelopment, property sale and lease advisory.
OFFICE – Cushman & Wakefield's specialized and highly experienced office leasing team are experts in their field. They are dedicated to providing the best, most considered and professional advice in the market.
Find available office premises at Officeguide.cz
INDUSTRIAL – Our industrial team offers its clients customized industrial and logistics solutions. Our services lead to increased asset value, increased operational efficiency and other benefits which will help you in reaching you business goals.
Find available industrial premises at Czech-industrial.cz or available retail parks at Retailparks.cz
VALUATION – Cushman & Wakefield's Valuation & Advisory services professionals are dedicated to providing a quality of service which our clients trust. They are fully regulated by the RICS and are one of the most experienced teams in the market place.
PROPERTY MANAGEMENT – Cushman & Wakefield's market leading property management services team aims to go beyond the traditional scope of property management services. With the support of our specialist teams across all sectors we offer property management services for offices, industrial and retail property.
Visit Assetservices-guide.cz for your property management needs.
INVESTMENT – Our team of investment specialists provides its clients with advisory services in investment, sale, development and financing of commercial properties.
HOSPITALITY – Our specialized CEE team provide high quality advisory and transaction services in the hospitality field. They work closely with Cushman & Wakefield's global hospitality platform.
RESEARCH – We could not be number one in the market without having a deep knowledge of the global and local property markets. Our research team, working in support of our sector specialists and advisory teams can also provide tailored analysis on all elements of the market.
PROJECT MANAGEMENT SERVICES – Our Project Management team is able to offer comprehensive support to our clients with a full range of project management services from space plnanning, design, cost and time management, tendering along with full supervision and administration of the construction process.
DESIGN AND BUILD – Team provides a genuine turnkey delivery model for our clients. It is an integral part of the Cushman & Wakefield PDS service line that ensures all the Project Management Design and Construction works, including furniture delivery will be packaged to your needs under a single contract and with all the guarantees provided by Cushman & Wakefield.